My sartorial obsession with all things nautical is both well-documented and well-maintained, given the amount of stripes and ropes in my closet, but only recently has my wardrobe been anchored by…well…anchors.  Prior to J. Crew's development of yet another cutesy textile, finding something with anchor print meant either settling for 7 inch inseam mom shorts at Brooks Brothers (maybe in 30 years, eh?), or getting some dorky Gap t-shirt with a graphic print that…um…unsuccessfully tried to copy the Crew's whimsical-chic aesthetic (sorry, Gap, I love you but WTF. Also, more on the Gap ≤ J. Crew phenomenon in an upcoming post!).  Lo and behold, a few seasons ago J. Crew (the OG and Factory, TFGGGG), rolled out an array of anchor print items, from ultralight summer cardigans to convertible circle dresses to t-shirts that don't look like crap.  Armed with several coupon codes plus a member credit, I went to work, finding some adorable anchor print goodies (and a bright orange lobster print eyelash scarf.  Because I love lobsters. I am so predicable.) at very reasonable price points.  My top J. Crew anchor picks, new and old:
1. Anchors Aweigh Cardigan:
(This *might* still be available at some Factory locations)
2. Factory Printed Sanur Dress: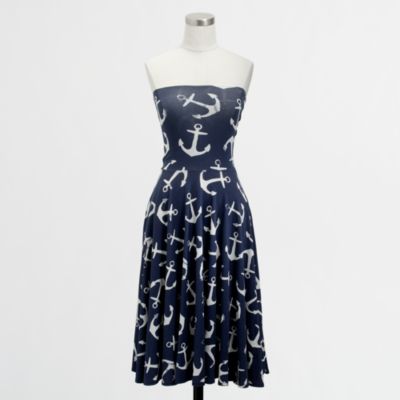 (This delightful tube dress converts into a mini or a skirt. Click to buy)
3. Factory Printed Eyelash Scarf: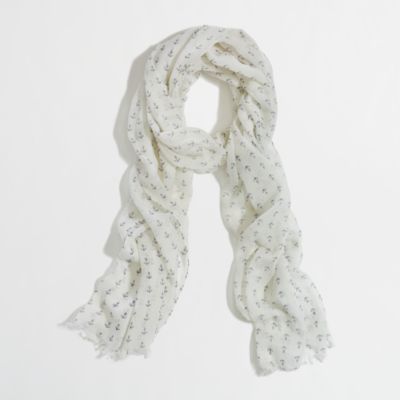 (You can never have too many summer-light scarves! Click to buy)
4. Factory Intarsia Charley Sweater: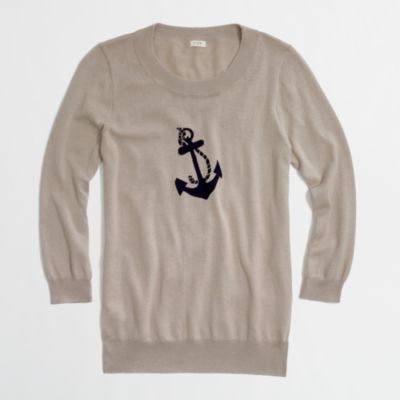 (OK so I'm not cray about the color but it's still pretty cute. Click to buy)
5. Factory Nautical Sequin Tank: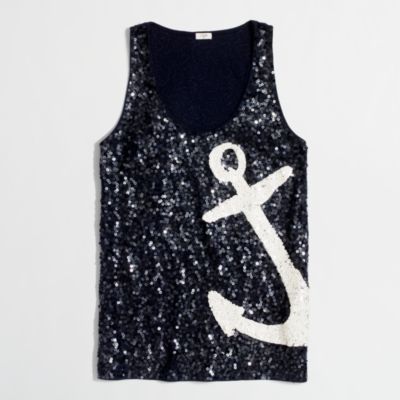 (A lot going on here but I like the idea. Click to buy)
6. Candy Anchor String Bikini: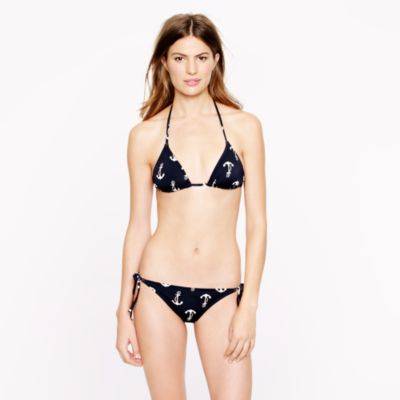 (Not for the confidence-lacking, but I love the print! Click to buy)
7. 3″ Chino shorts in Candy Anchor: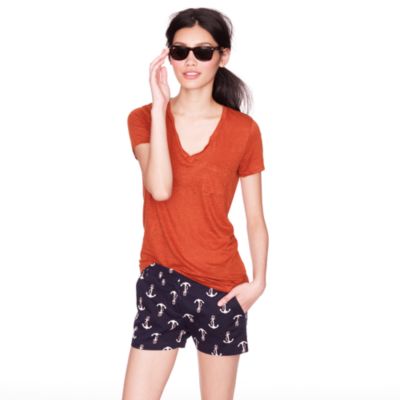 (Ahh, an age-appropriate inseam! Thanks, J. Crew! Click to buy)
8. Elbow-Sleeve Tee in Stripe: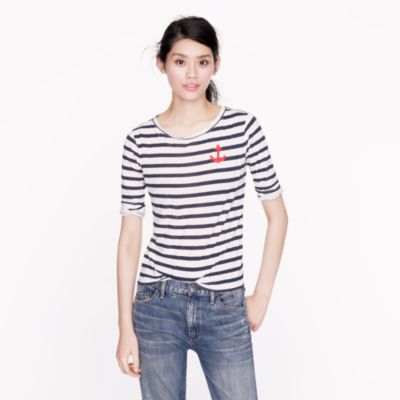 (Not sure about the sleeve length but everything else is presh! Click to buy)
Note to self: do more distance runs; procure the string bikini.  Or cover up with like 5 different summer print eyelash scarves.  Or both.